Hello Everyone, it seems I have had a bit of free time on my hands and I actually have another layout to share with you today!
I am so excited about this layout as I just LOVE LOVE LOVE the House of Roses paper collection from Lemoncraft, it is completely gorgeous!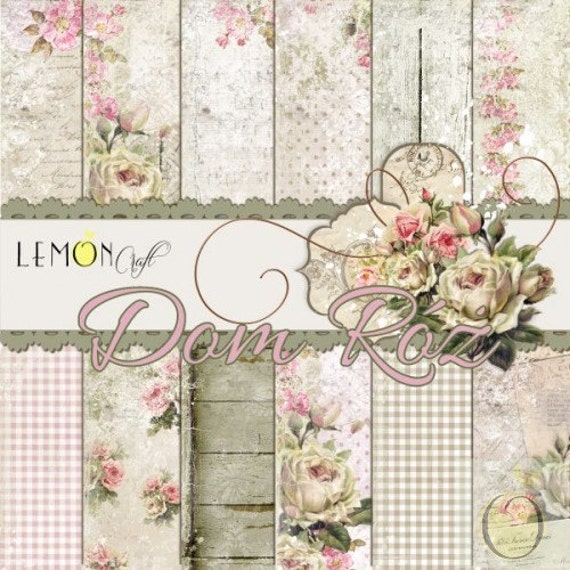 I could not wait to great creative when I received my new Lemoncraft goodies!
This is a layout using a photo from my oldest daughters senior photo session (my where has the time gone)! The House Of Roses collection paired wonderfully with the photo and allowed my to create that vintage shabby chic look I was going for. As always once I had all my supplies selected and scattered about my desk for my layout, I began layering and distressing using my Ingvild Bolme distress tool. I added coordinating paper behind the layout so that I could peel back the paper and expose the coordinating paper. I love doing this because it not only adds dimension, but also it gives it a more tattered and weathered look which you will see in all my creations as that is a favorite technique of mine!
When I received this collection one thing I knew I wanted to do right away was cut the wood patterned paper into strips to make it look more like individual weathered barn wood. I cut them into different lengths and shapes at the end to look more realistic as old barn wood varies in shapes and sizes. I them used my Ingvild Bolme edger ink in dry sand to ink the edges to make them stand out more.
I loved all the floral patterns to the paper and wanted to incorporate as much as I could to my layout, so I also fussy cut some roses to include at the edges of my layering. Lastly I added a random white picket fence I had in my stash, along with some random Prima roses I also had in my leftover stash. I finished off the florals with a leaf flourish stamp from heartfelt creations.
Once I felt my layout was complete, I used my Tim Holtz Distress Ink in Tattered Rose with a sponge to lightly ink around my layers to add dimension as well as give it a distressed, aged look. Finally I used some white acrylic paint to white wash over my layers and florals to give it a muted toned down look.
Thank you for looking, if you have any questions please email me at
cj7evans@yahoo.com
. I love reading your comments, so please let me know what you think, I hope my layout was helpful and you were able to find some inspiration for your own creation!