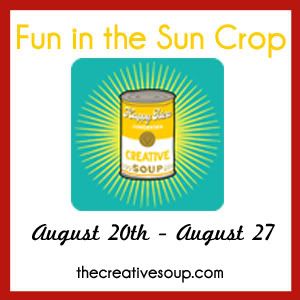 Welcome to
Creative Soup's
"Fun In The Sun"
Crop and Blog Hop. We all decided to get together and have blog hop with a twist! Each member will have a part of a recipe to make a layout. Go around to each of the blogs in the hop, and you'll have all the instructions for a great challenge! Put at least 6 of the recipe elements on a layout/project, and link it back to the challenge thread
HERE
My recipe element is <
FUSSY CUTTING
>. Take a look at Dana Tatar's layout, for a great example of this. This layout is from the
If The Shoe Fit's
Mojo Monday Challenge
Definition of Fussy Cut: To fussy cut is to target and cut a specific motif that's printed on fabric (or paper)
BY: DANA TATER
Here is the list of participants in the hop and links to their blogs; up next is
KIM
Tina -
http://adogslife-thirteen.blogspot.com/
Jenifer -
http://heldscrap.blogspot.com/
Kim -
http://randomsnippetsofasupermomintraining.blogspot.com/
Marsha -
http://www.ordinarymoments-marsha.blogspot.com/
Katie -
http://scissorsspatulasandsneakers.blogspot.com/
Dayna -
http://daynahoward.typepad.com/blog/
And if you happen to get lost, remember you can always go back to the original challenge thread!
FUN IN THE SUN